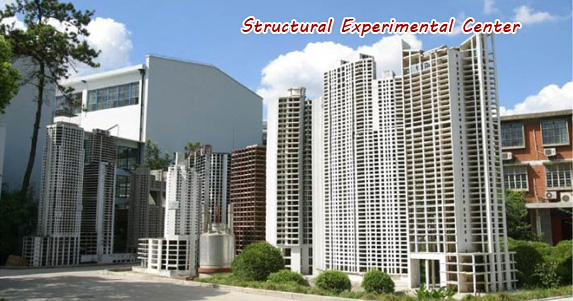 BRIEF INTRODUCTION
The Shaking Table Testing Division was established in early 1975. In 1983, one two-dimensional earthquake simulation testing system was imported from MTS, USA. In 1991, the system was upgraded to a three-dimensional system with six-degree of freedom. In June 1991, the State Key Laboratory for Disaster Reduction in Civil Engineering was assessed as an opening laboratory towards domestic and abroad. In 1997, State Key Laboratory for Disaster Reduction in Civil Engineering was evaluated as one of the top ten Key Laboratories in China.
There are 23 researchers working in Shaking Table Testing Division at present, and the executive supervisor is Professor LU XiLin. The laboratory have many experts like professor Zhou Deyuan, professor Liu Zuhua, professor Shi Weixing, professor Qianjiang, Professor Lu Wensheng and associate professor Lu liang and so on.
Members of the research team with a good academic and research background, familiar with the existing laboratory test equipments and analysis tools, have completed a number of major earthquake-test research projects, such as the shaking table tests, calculation and analysis, connection model testing and in-site measuring of the Shanghai World Financial Center, Shanghai Shimao International Plaza, Guangzhou natural Center, LG Beijing Building and so on. According to statistics, the efficiency of Tongji University earthquake simulation shaking table system ranked in the world. Special needs to be pointed out that as till November 2007 laboratory's 600th shaking table test has been completed. The number of high-rise building model testing projects comes up to 40. In aspects of the model testing technology and theoretical analysis, a wealth of research experience has been accumulated.
The laboratory is also suitable for doctoral and master degree candidates, post-doctor fellows and visiting scholars to do their research works, and has established a good relationship with domestic and overseas professionals.
The laboratory is a teaching base. Many of the post-doctoral, doctoral and master degree candidates carried out research projects as main team in this laboratory. In addition, the laboratory will explore that make research results and capacity into teaching resources, and have made good teaching results.
The laboratory is a propaganda base. As a propaganda windows of Tongji University, the laboratory is often reported positively by CCTV, Shanghai Education TV, Wen Hui Po, and other mainstream media. The annual reception number of domestic and foreign experts, scholars, students is more than 2000, issuing various types of publicity materials more than 1,000 copies.
As mentioned above, Shaking Table Testing Division is engaged in the research of disaster reduction in civil engineering for decades, and has accomplished many projects, which include NSF projects, famous municipal projects, and large transportation system and high-rise buildings. Meanwhile, the laboratory won various awards from national and local government prizes for her excellent works.
TEST ASSORT
Shaking table test
Pseudo-static test
Pseudo-dynamic test
Test on structural fatigue behavior
Static test on important structural system
Detecting on dynamic behavior of structures
Inspection of construction quality
Structural health monitoring
DEVICES AND EQUIPMEN
MTS earthquake simulation shaking table
Item

Performance

Remarks

Maximum payload

25 tons

Table dimension

4m×4m

Exciting direction

X,Y,Z

Simultaneously

X&Y: Horizontal;Z: Vertical

Maximum stroke

X:±100mm、Y &Z:±50mm

Maximum velocity

X:1000mm/s、Y& Z:600 mm/s

Maximum acceleraion

X

4.0g (Bear table)、1.2g (with 15tons payload)

Y

2.0g (Bear table)、0.8g (with 15tons payload)

Z

4.0g (Bear table)、0.7g (with 15tons payload)

Frequency range

0.1~50Hz

Data channels

96

Degree of freedom

6
Pseudo-dynamic and pseudo-static testing systems
Item

Performance

Remarks

Actuators

SCHENCK

Max stroke: ±250mm

two

Max force:630kN

IST

Max stroke: ±200mm

one

Max force:1000kN

Resistance wall

Max resistance force:1000kN

at highest

Height:8m

Hole spacing:600mm *600mm

Geosyncline

Spacing interval:1000mm

Seven,Width of Testing bed box:7.6m

Max force:500kN/m
PMS-500 fatigue testing machine
YE-500 hydraulic testing machine
NYL-5000 hydraulic testing machine
CF-910、CF-350 analog
Various oil jacks
Various transducers and amplifiers
3815、3817 serial data acquisition system