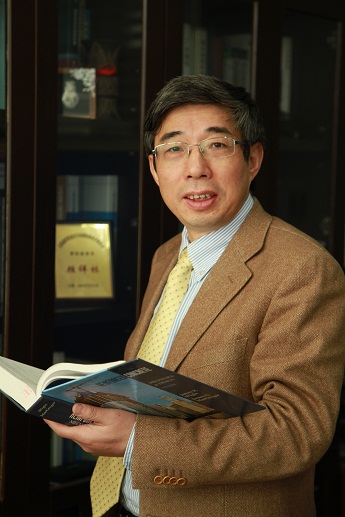 On this special occasion of the arrival of the new year, please allow me, on behalf of the College of Civil Engineering (CCE) , to extend our New Year's wishes, most gracious greetings and sincere thanks to our dedicated faculty members, hard working students, retired colleagues, alumnus and friends from various circles who have been always paying close attentions and providing supports to the development of CCE, Tongji University.
2011 had been a fruitful year with many excitments. In June of 2011, CCE invited a number of international renowned experts in the field of civil engineering to evaluate our discipline of civil engineering, in an aim to enhance our comprehensive strength and improve our administrative efficiency. This endeavor was expected to bring our CCE one step further towards the world leading colleges. In August, CCE was granted as one of the Pilot Colleges in the program of "Education and Teaching Special Pilot Sites" as a part of the national high education comprehensive reform program. In December, we completed the construction of a multifunctional shaking table array laboratory and began the equipment installation and calibration. Once all is completed, it will be the largest multi spot shaking table laboratory in the world.
Speaking of scientific research, CCE has been granted with a total research funding of 230 million RMB, including three projects from National Basic Research Program of China ("973" projects), seven internationally jointed research projects and fifty-seven National Natural Science Foundation projects.
For teaching and training, our students have won one Top Ten National College Students Innovation Forum Project; all top three prizes in the National Civil Engineering Innovation Achievement Award for undergraduate students; one prize of excellent project in Shanghai College Students Innovation Forum; two special prizes in the National College Students Hydraulic Innovative Design Contest and one excellent project in Shanghai College Students Summer Social Practice.
In terms of international exchange activities, CCE has established, by the end of the year, the degree granting cooperation and exchange platforms with tens of world leading universities, including twenty-five double degree platforms and thirty-two exchange platforms.
Looking forward to the year 2012, we believe that it will be even more fruitful. We will continue to carry out all sorts of work required as a pilot college step by step. We will work hard to reform and innovate our management system and operation mechanism, to break through development bottlenecks, and to achieve the aims of the development of CCE. We will promote the development of the Institute for Advanced Research; maintain our superiority in scientific research of engineering applications, and enhance frontier fundamental scientific research. We will implement the Excellent Engineers training mechanism; and we will steer our faculty members' energy and interests to personnel training and scientific research by emphasizing their leading roles in academic research and reforming the mechanism of talent selection and training and the human resource system as well. We will help our outstanding and innovative faculty members to build up international perspectives and leadership consciousness, to meet the needs of further development of our country, to better adapt themselves to the development of science and technology, and to achieve an integrated development.
Let us exert our utmost effort to write a brilliant new chapter for CCE!
Dean of College of Civil Engineering
Xianglin Gu