CCE held the Third International Conference on 3D Construction Printing
Release time :2022-12-05        Read the number:
10
The Third International Conference on 3D Construction Printing & International Conference on 3D Printing Concrete Materials and Structures-2022 co-organized by Tongji University, Hebei University of Technology and Southeast University was held online from June 18th to 19th, 2022.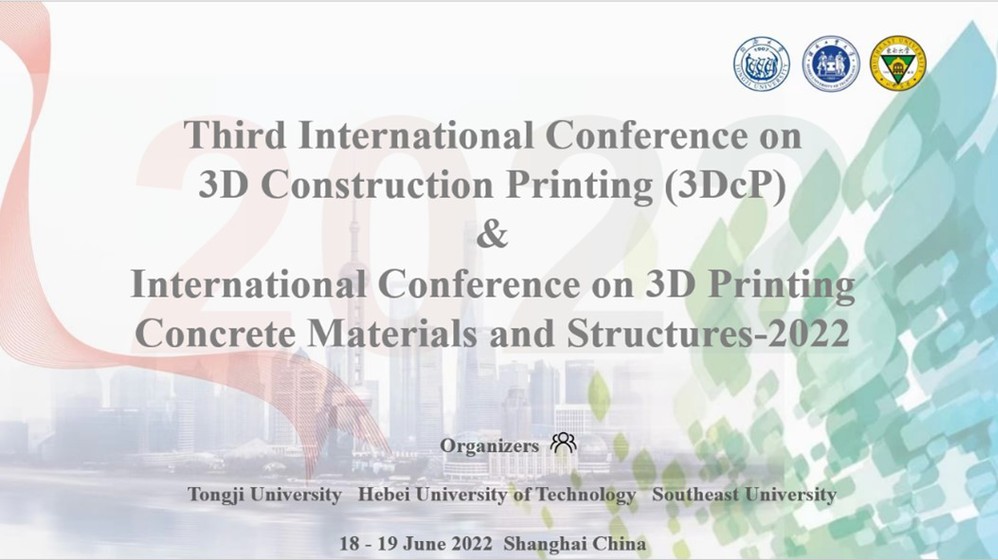 On the opening ceremony on the morning of June 18th, Prof. Xianglin Gu, Vice President of Tongji University, extended the sincerest welcome to the experts and scholars from all over the world. President Gu introduced the basic situation of Tongji University and the international status of related disciplines. He highlighted that 3D construction printing technology can help upgrading of the construction industry and realization of the carbon peaking and carbon neutrality goals. Prof. Ying Zhou, Dean of the College of Civil Engineering, introduced civil engineering discipline of Tongji and pointed out that 3D construction printing technology provides new development space for materials, structures and design, and has broad development prospects.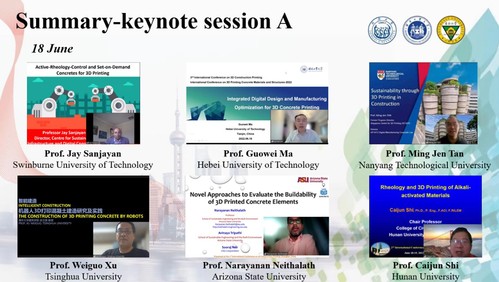 Later, Prof. Jay Sanjayan from Swinburne University of Technology, Prof. Guowei Ma from Hebei University of Technology, Prof. Ming Jen Tan from Nanyang Technological University, Prof. Weiguo Xu from Tsinghua University, Prof. Narayanan Neithalath from Arizona State University, and Prof. Caijun Shi from Hunan University gave keynote lectures covering the latest international cutting-edge achievements in rheological performance regulation, structural design and optimization, sustainability evaluation, printing process innovation, constructability assessment, and alkali-activated printing material development for architectural 3D printing materials.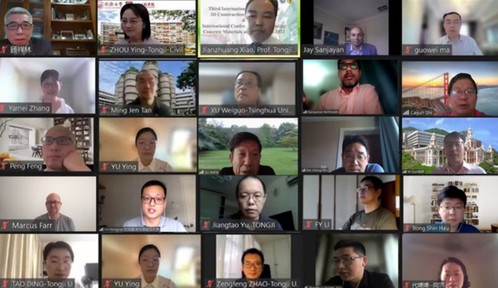 In the following two half-days, 59 lectures of the 6 parallel sessions were given, focusing on architectural 3D printing materials, structural analysis, numerical simulation, architectural design and engineering applications. With the continued impact of COVID-19, the conference was held online, but it still connected the participants around the world.
In the afternoon of June 19th, Prof. Yame Zhang from Southeast University, Prof. Viktor Mechtcherine from Technische Universität Dresden, Prof. Peng Feng from Tsinghua University, Dr. Timothy Wangler from ETH Zurich, Dr. R.J.M. Wolfs from Eindhoven University of Technology, Prof. Yuan Feng and Prof. Jianzhuang Xiao from Tongji University gave keynote lectures, introducing the latest research progress in the fields of 3D printed concrete.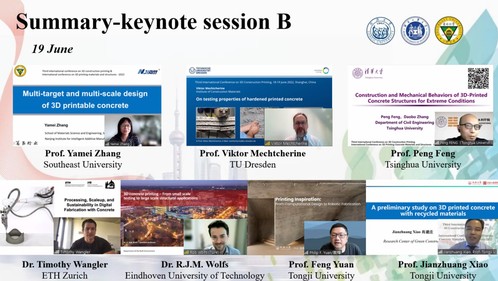 With more than 500 participants from over 10 countries and regions, including the United States, Germany, France, Australia, Singapore, Switzerland, the Netherlands, Belgium, Vietnam, Mainland China and Hong Kong SAR, the conference brought a wonderful academic feast for all the participating participants.
3D printing technology in construction is a cutting-edge innovation that promotes the development of green and intelligent construction. The conference not only strengthens the academic exchange between domestic and foreign scholars in the field of 3D construction printing, but also promotes the diversification of civil engineering disciplines with other related disciplines, and comprehensively promotes the international exchange and "top university-top discipline" objective of Tongji University.